Aerial photography is one of the most powerful forms of imagery on the planet, and it is becoming increasingly easy and affordable to do. In this blog post, we'll give you a quick rundown of how aerial photography has evolved through the ages, how it can add value to your business, which sectors are benefiting from it and how you can find a reputable operator that stays within the law...
The history of aerial photography
The first known instance of aerial photography occurred in 1858 when Gaspar Felix Tournachon tethered a hot-air balloon 262 feet above the outskirts of Paris. Because Tournachon's photographs were unfortunately lost, history more commonly remembers James Wallace-Black's iconic shot from 1860, taken 2,000 feet above the Boston skyline from another tethered balloon (see below).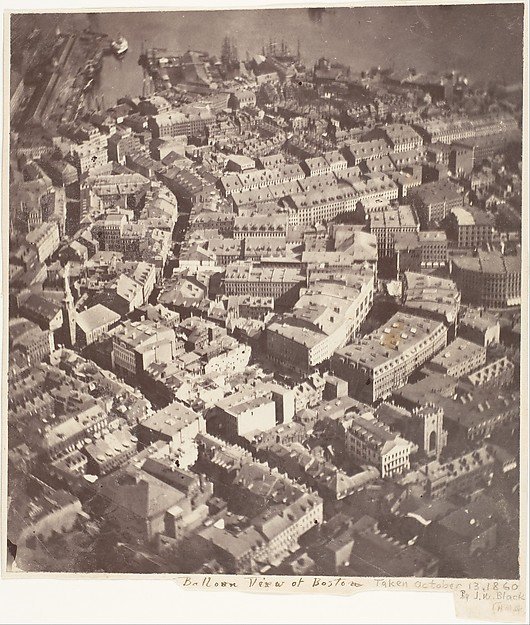 In the 20th century, war was the biggest driver of innovation in aerial photography. From aerial reconnaissance missions in WWI and WWII, to Cold War satellites, all the way through to the more recent conflicts in Afghanistan and Iraq. It is largely thanks to the increased affordability of drones that we have seen such incredible innovation in aerial photography in recent times, both inside and outside of the military.
The benefits of aerial photography
Aerial photography never fails to be striking - the dramatic nature of it will always turn heads. An aerial photograph can be a very effective tool in a marketing campaign and is often the cherry that tops off a professional photo gallery.
There are also many functional uses of aerial photography. Beyond the wartime spying mentioned above, modern-day drones are used as a safer and cheaper alternative to manned aircraft for a variety of different purposes, such as construction-site progress reporting, environmental surveys, mapping.
Aerial photography in the real world
Inspections
Drones are used across the industry to inspect difficult/hazardous sites, i.e. construction, oil and gas refineries/pipelines. Not only are they significantly cheaper than a helicopter, but their small size and the fact that they are unmanned allows for inspection photography that would have previously been too unsafe to attempt.
Event marketing
Many event organisers use drone photography and drone videography to capture the enormity of their event for marketing purposes. Overhead footage of thousands of people enjoying themselves at a music festival, for example, is a great way to promote the next event. Even an event like a wedding can benefit from an aerial shot that captures all of the guests against the backdrop of a church or a grand stately home. Not only is this a great photo for the wedding party to remember the day by, but it can serve as the ultimate advertisement for the venue and the photographer.
This Event was the Great North Classic Car Show held at the Black horse in Stanley - hosted by the Aston Workshop with Tiff Needell as a celebrity presenter.
Construction
Capturing the ongoing progress of a construction project is one of the most common uses of aerial photography in industry. By simply sending a drone up into the sky, a client can be updated on the progress of their site and a whole host of information can be captured to assist internally with logistics and production planning. Drones are also very useful before work even starts. They are integral to land surveys, and thanks to laser scanning, the data from a drone can be used to create 3D models and designs of a site.
General storytelling
As you can see from the video above that we shot for the amazing Crispies Estate located in Scotland, the aerial footage is a perfect way to set the scene, exhibit the scale of the show and give context to the rest of the video.
Aerial photography laws and regulations
Drone photography and videography is subject to many different rules and regulations. As tempting as it may be to just buy a drone and start capturing footage, you might well be breaking the law. If you are using a drone to take photos for any commercial purpose you must register with the Civil Aviation Authority (CAA) as an approved drone operator. Any person/company you use for drone photography services must also be registered. It's important to check the credentials of anyone who offers aerial photography services, otherwise, you may become liable yourself.
At Media Borne, we have our very own qualified pilot, and we constantly check to make sure we are up-to-date with the relevant regulations. This is no mean feat, given the relatively new technology and the politicised debate that surrounds the use of drones. It is anticipated that there will be tighter regulation of drones in the near future, i.e. height restrictions, more rigorous testing of pilots/operators, heavier restrictions on use near airports, and increased police powers to clamp down on the use of drones on the spot.
If you are not willing to go through the extensive process of using a drone legally, it really is imperative that you find a reputable operator to help you with your aerial photography. With increasing regulation and hefty penalties for those who transgress, it really isn't worth the risk of capturing aerial footage without the proper licenses.
How we use aerial photography
Aerial photography is an important part of our service. We have used it in many projects in Newcastle and across the north east, often in combination with other techniques such as a timelapse.
If you would like to find out more about our aerial photography services, contact us today.