We often get asked to interview people on camera for a whole range of media- event coverage, corporate videos, promotional videos, social media content, internal audits and non profit work.
Throughout all of these different contexts and video projects, we've gathered together some essential tips for how to successfully film someone on camera. And we'd love to share them with you. Hopefully these tips will help you produce video interviews that are clear, engaging, and great to watch.
Some advice if you are filming an interview:
Don't over prepare
Yes, of course you should prepare, just don't go overboard. If you over prepare then you will find it harder to create a connection with your interview subject and go with the flow during the interview. Research your interviewee, plan your filming location, write out a list of topics and questions but don't memorise them or choreograph the whole affair too much. As documentary filmmaker Werner Herzog says, "I'm not an interviewer, I have conversations".
And absolutely do not give your interviewee your list of questions or they'll be just as overprepared and stiff. Instead give them a list of topics that you want to cover, without specifics.
Build rapport with the interviewee
Unlike other video production projects where the technical aspects dominate the shoot, interviews require personal interaction and rapport. You want the person you are interviewing to feel at ease and open up. Otherwise they will only give short 'yes' and 'no' answers and look uncomfortable on camera.
Don't worry, you don't have to incredibly charismatic to build rapport; there are some simple, easy things you can do to connect with your interviewee:
Speak to them face to face a few days before, if possible
Make good eye contact
Think of their comfort- ask if they need anything: water, food, an extra cushion etc…
Explain the process
Go over the topics you want to cover
Reassure them that you are there to make them look and sound great on camera
Get your interviewee settled
Once you've spent some time putting your subject at ease, get them settled into the seat and/or space you want them to be in while filming. Try to provide them with a chair that is stable, quiet and comfortable, that is within easy reach of a glass of water. If they are going to be standing during the interview, make sure it is somewhere without too much foot traffic.
Briefly talk them through the camera and light set up and check that their positioning works well on camera.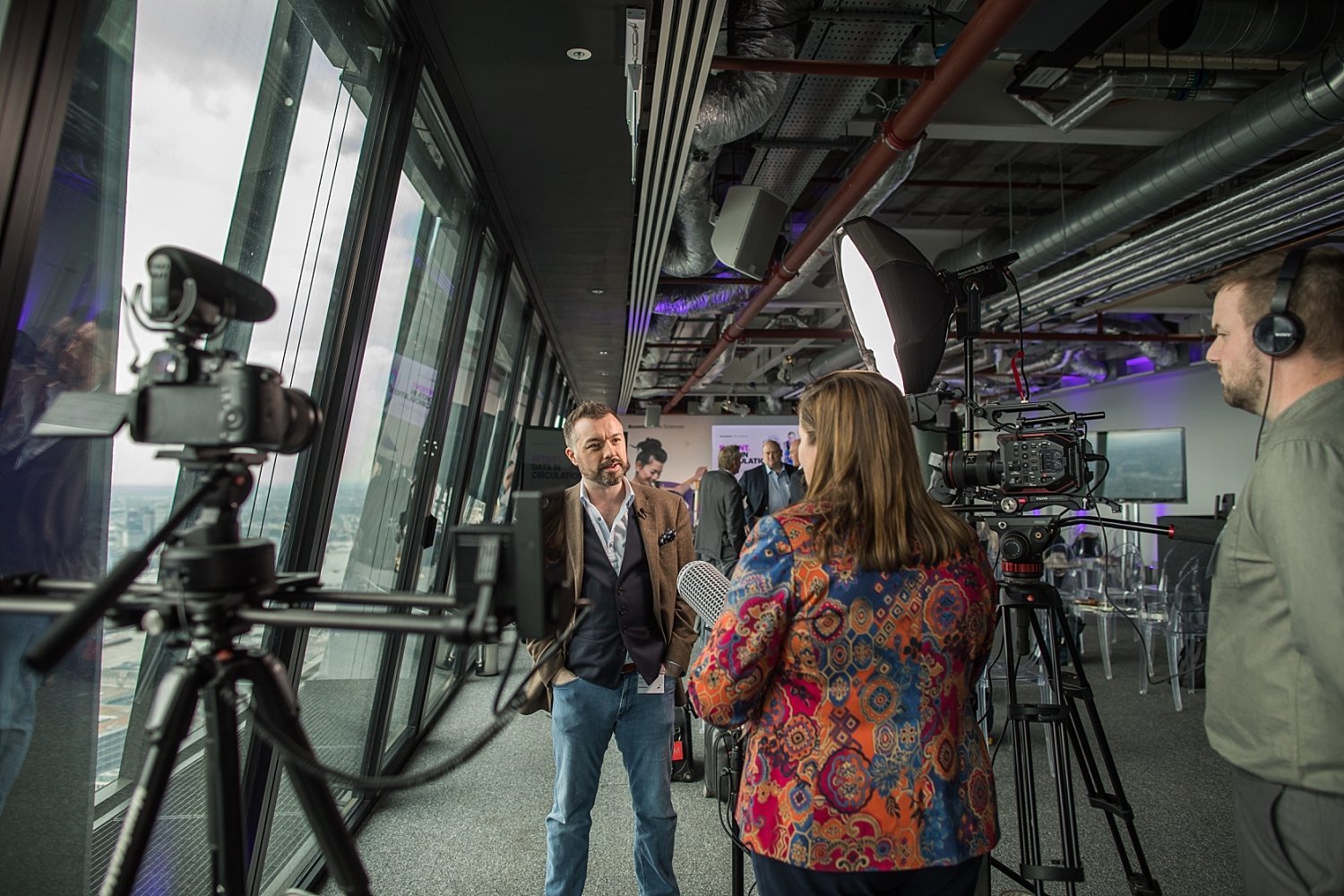 Get the subject to look at you, not the camera
If you are doing both the filming and interviewing, then you can have the subject look into the camera to create a connection with the viewer. Otherwise, the more common set up, is to have both you and the subject on camera with them looking at you rather than into the camera. This will create the sense of a conversation rather than an interrogation and avoid awkward staring into the lens.
The best set up is often to have the camera right behind and/or next to you, so that the interviewee is looking just off camera but you can still their whole face rather than their profile, which can be off putting and jarring for the viewer.
You can see an example of this in our interviews filmed during our event coverage of the EMCON Engineering Show.
Use two cameras
If possible, film with two cameras in slightly different positions. This will allow you to get a middle shot and a close up shot, which you can switch between in your final edit. The two different shots will help to provide context for the interview with the middle shot and also capture emotion and expression with the close up shot.
Finally, the variety between the shots will help to keep the viewer engaged and connected with the subject and the video.
Test the sound and light
Although your main focus should be on your subject, producing a video still requires technical experience and attention. Before you start filming, take at least a few minutes to make sure that your camera and lighting setup is right by testing the sound and light, if possible with your actual subject rather than a stand-in.
Take into account ambient noise and distractive sounds when choosing your location and do a test recording with sound before finalising your location.
There are a lot of great online resources for lighting setups, so if you don't have much experience with lighting, do a little research beforehand. If you are filming at an event or in a more spontaneous situation then think about the available practical light sources in your location and how best to use them. To complement the natural and/or onsite light sources, you can always use a reflector to create an extra bounce light.
Start with easy questions
Ask them some easy questions to start off with- what did they have for breakfast, how did they get to the interview, where do they live, etc… Anything with an easy answer that allows them to relax and helps you to show them that you are interested in them.
Do this both off camera before the interview and once you start filming. When the camera starts rolling, begin with some lighter, easier questions. Again, this will help to set them at ease but also will help to build up interest in the story that you are telling through the interview.
Use open ended questions
When planning your questions or following a promising, spontaneous line of questioning, keep in mind that open ended questions lead to more interesting answers. A closed question can essentially be answered with just 'yes' or 'no', whereas an open ended question requires a more elaborate (more interesting!) answer.
So, once you've asked a few easy questions to get your interview going, move onto open ended questions that cover the main topics you want to discuss.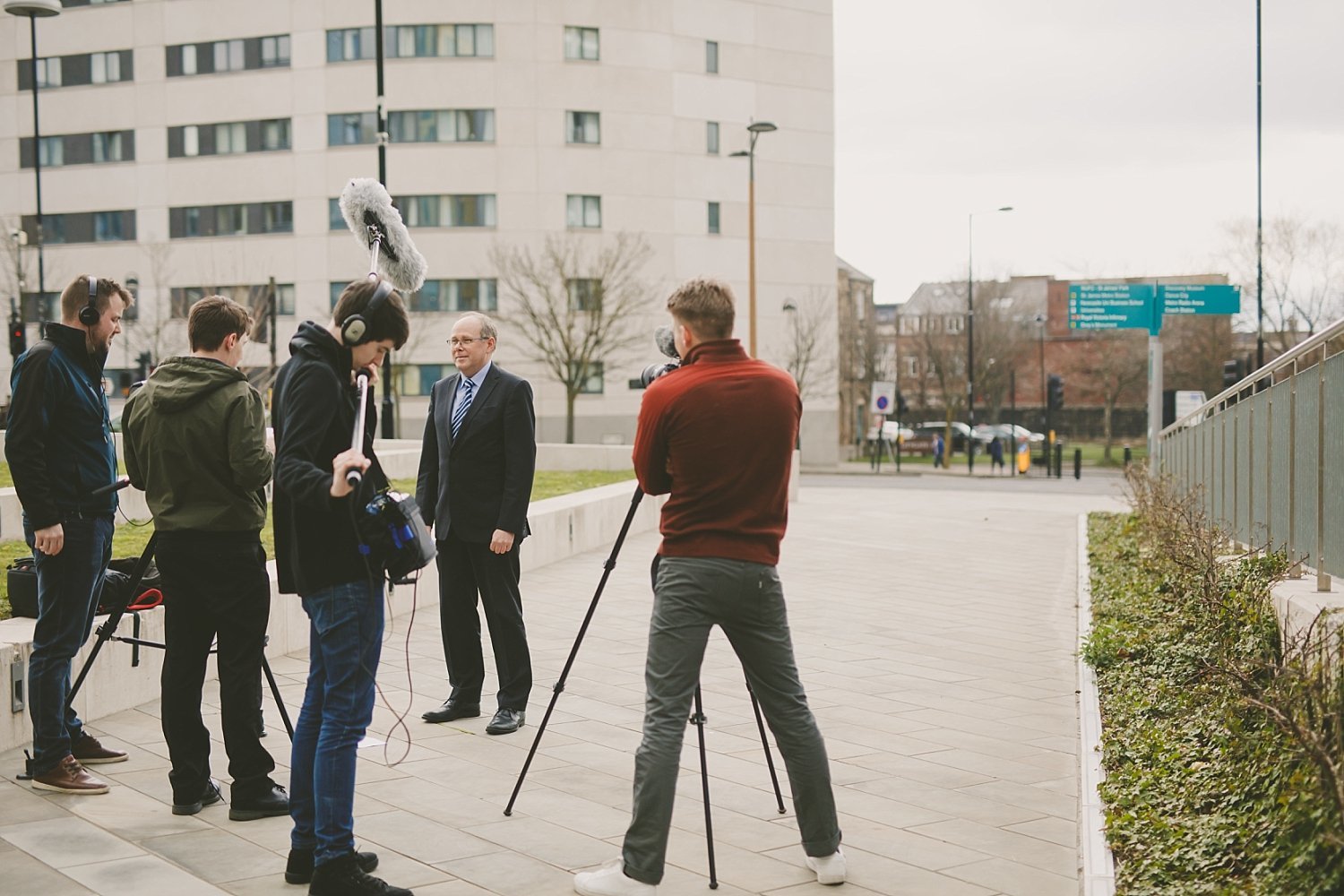 Be flexible, follow your instinct
No matter how much you prepare, each interview will go differently because there are so many variables. That's what makes filming and producing interviews so exciting. This also means that you need to keep an open mind about how your subject is going to react in the interview and follow your instincts throughout. Some people can be shy on camera, some speak too quickly, some may lose their train of thought or only reply with short answers.
It helps if you can keep the interview area quiet- this includes you! Be very conscious of not making any 'ummm' or 'oh right' noises, they may seem supportive but they are very distracting. However, nodding and mirroring body language can be helpful, as well as being relaxed yourself. Nerves are contagious so take a deep breath and emanate confidence. And if a topic is working well then follow your subject's enthusiasm, if not then don't hesitate to move on to a different question.
Ask if you missed anything
At the end of the interview, it's worth asking your subject if you've missed anything or if there is anything they'd like to add. Often, this is when they will share something important that they've been wanting to share and that maybe you didn't think to ask.
It's also worth filming for as long as possible to give you lots of B-roll. This extra footage is often crucial when you're editing, to give the film some variety and extra flavour.
Film the intro at the end
If you have the time, it's worth considering reshooting your opening introductions once you feel like you've finished with your questions. Just politely ask your subject if they would mind redoing those first few moments as they are often the most stilted, whereas by the end of the interview you and your interviewee are both much more relaxed. This small detail can help to create an engaging, natural beginning to your interview, setting the tone for the rest.
We hope that you've found our advice helpful and that filming your interview goes well! Look out for our next blog post on how to be a great interview subject on film, coming before the end of May.
If you have any questions, then we'd love to hear from you. And if you're looking for some examples of video production and interviews in different contexts, have a look through our portfolio for some inspiration.