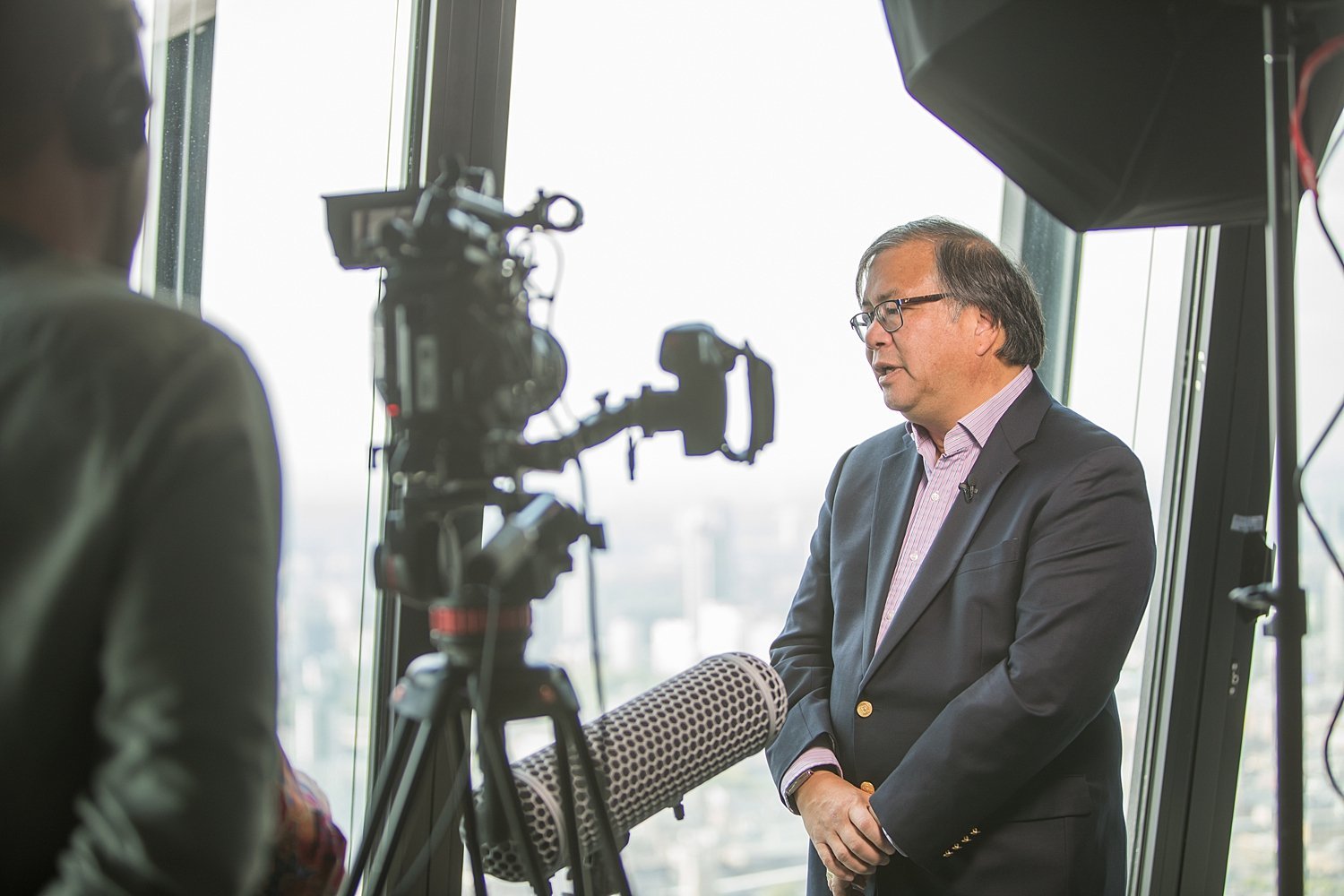 We hope you enjoyed our recent blog post on how to produce a great interview. That article gave interview advice from the videographer's perspective, providing tips on how to build rapport with your interview subject and get your technical setup right.
In this blog we'd like to share some advice from our trusted presentation coach Duncan Yellowlees to help the interviewee to come across well on camera. Duncan is a specialist in presentation skills and communications, he works with businesses to create inspiring presentations and communications that connect with audiences in an effective and enjoyable way.
His tips below are helpful both to the interviewee, who wants to tell their story in a sincere and articulate way, and to the videographer, who wants to produce an engaging and informative film with a compelling subject. What's more, Duncan's advice is valuable whether you are filming an informal interview at an event or for a branded corporate promotional video.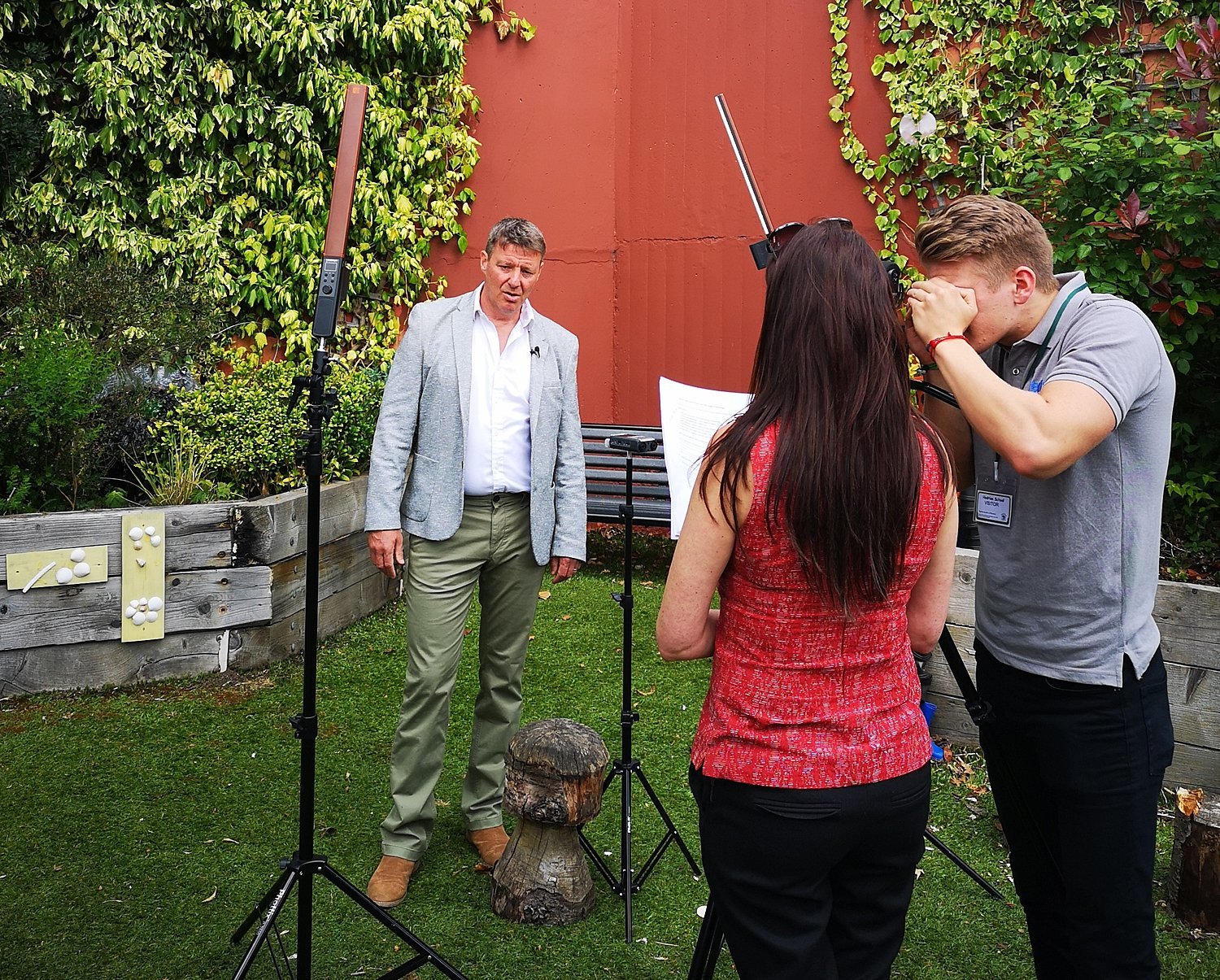 How to relax before an interview
Make sure you have thought through what you want to say beforehand, that way you'll go into the interview feeling prepared and excited about sharing what you want to say. Depending on your style, you can write some notes, jot down some bullet points or just go through what you want to say in your head.
The point of video interviews is usually to show you as you naturally are, so try not to stress and over prepare. This isn't the same as being on stage, we don't need a 'performance', it's just a chat with a camera.
How to perfect your 'elevator pitch' or 'story statement'
The key here is to articulate why what you do matters to the interviewer you are talking to and, most importantly, to the audience. What problem do you solve? In what way will your product and/or company make their lives easier?
Your focus should be on how your work will affect them. Don't just say what you do or talk about yourself without including your target audience and why you matter to them.
Your elevator pitch will need to be tailored for different audiences, so prep 2 or 3 variations of your statement to use in a variety of circumstances. For example, when I explain what I offer to a company or individual, I research their needs beforehand and then choose what to emphasise. For some clients I talk about building reputation and becoming visible experts, for others I focus on how to gain skills and confidence. I tailor my range of skills and what I can offer to the audience, so think about what elements of your business or project you want to emphasise in the interview depending on who will be seeing it- who is the intended audience for the film?

How to prepare articulate, interesting answers
When being interviewed, the questions you are asked will be designed to prompt long answers. This is not a 'yes' or 'no' situation.
Therefore it's essential to know what points you want to make and link your answers to the most appropriate questions. You don't want to force the situation of course, but equally don't be afraid to go on a tangent or add detail. Any bad bits can be edited out. Sometimes by talking freely about your topic you'll find that you express yourself really clearly and provide some great context.
Tips on body language and eye contact
Talking to camera is like having the audience 20 centimetres away from your face, which means that it's very easy to seem over the top. Make sure to keep gestures smaller than you would in a meeting or on stage.
Of course, the viewer wants to see emotion and on camera the best way to capture this is to really talk from the heart in a sincere and impassioned way. Your heartfelt emotion will be visible in the micro expressions on your face and in your eyes. In short, speak naturally and really mean the things you are saying.
The team producing and filming the interview will work out the best place for you to look when talking. Sometimes this is straight to camera, sometimes to the side. You can take your lead from them, they are the experts and will know what works best for the type of interview you are doing.

Tips on setting, clothing and time of day
How you dress and the setting you choose for the interview should fit with how you want to be perceived by your target audience. Do you want to come across as a shrewd professional? Or down to earth and approachable? If you are talking about or on behalf of your company, then you will be seen as a representative of their work and brand, so you need to present yourself accordingly. For example, ask yourself whether you want your company to be seen as new and cutting-edge or classic and well-established?
Select your clothes and location to reinforce the message you decide on and that fits with your company's brand.However, it's also important to dress to be comfortable- if you are fidgeting with your clothing during the interview the camera will catch it and you'll seem nervous and possibly even insincere.
What NOT to do in an interview
Stare - remember to blink and relax your face
Panic - if necessary you can reshoot and edit the video
Read a script - don't over prepare what you want to say, you'll come across as emotionless
Be tight for time - filming should take a good amount of time, make sure you aren't rushed
Be dehydrated - make sure to drink water! Or your mouth will make odd squelching sounds when you talk
Talk too fast or too slow - a normal speaking pace is usually good for the camera, the production team will let you know if you need to change pace
Worry about the words - the meaning and points are more important than getting the words the same every time
Duncan has worked with us a lot in the past and continues to support the individuals that have a fear of the camera, if you want to know more about Duncan and his great methods you can visit his site and read more about what he can offer.
If you have any questions or interview tips to share, then we'd love to hear from you. And if you'd like to work with us on an interview video, send us an email and tell us about your project.