What is time lapse video
Time lapse video is a technique that captures a slow-moving process like building a skyscraper and turns it into a fast-paced video that shows the evolution of the project. If you're interested in the technical process behind the effect, we go into more detail in our previous explainer article about time lapse videos.
Hiring a creative media agency to film a time lapse video might seem daunting. Maybe you're worried that the filming will be intrusive and inconvenient or that a time video is out of your budget. In fact, thanks to our expertise with time lapse photography and videography, we're able to get full coverage of your construction project with very little involvement from your onsite team. We use a combination of static and dynamic camera shots as well as aerial photography and videography using a drone to create the finished video. Then the magic comes in the editing, when we turn them into a high-speed video so that you can watch the progress of your long term project easily and quickly.
Our professional equipment and experienced team will record the small and steady changes in your site without risking the safety of your staff, disrupting your construction schedule, or blowing your budget.
A gap in the marketing for construction businesses
Here at Media borne we're big fans of the versatility of time lapse video. Not only are they compelling to watch because of their grand scale but they can also serve a range of practical and marketing purposes. We've filmed time lapse videos to cover the energy of large events, to convey the drama of a busy city like Newcastle, and to track the spectacular construction of Hadrian's Tower one of the tallest buildings in the North East of England.
Our experience of filming time lapse videos has shown us that they are perfectly adapted for the construction industry, both as a way of monitoring projects and for marketing. Yet, most construction businesses overlook them as a way of advertising their services, displaying their successes and engaging a broader audience. Currently, if a construction company asks for a time lapse video it is mostly for site supervision, which is an important use of the technique.
However, we believe that there's a real gap in the marketing (we couldn't resist the pun) of construction businesses- they are underutilising time lapse videos in their media marketing and PR. Partly this is because time lapse videos are only now becoming more popular for online marketing thanks to the introduction of new technology like Instagram's hyperlapse feature. So beyond site supervision, how can construction companies use time lapse video to market their services?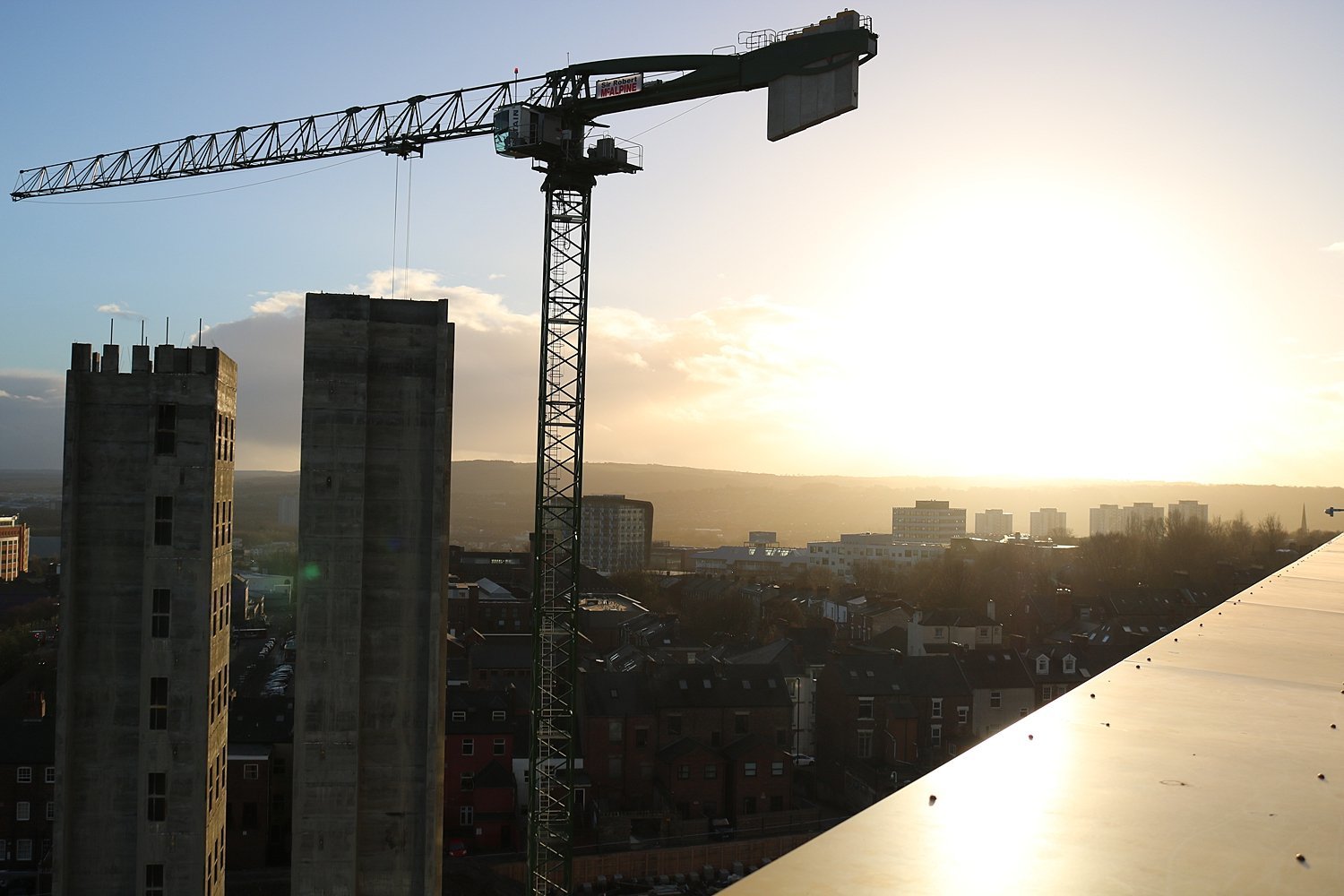 The benefits of time lapse video for the construction industry
Video on a grand scale
Firstly and straightforwardly, time lapse video is one of the best types of videography to convey the huge scale and complexity of construction projects. By using this technique, site supervision is simple and affordable. But not only can you follow a project from your office, but you can also use the footage for PR and marketing purposes. Your site manager and investors aren't the only ones who will be fascinated and impressed by the intricacy and skill of your construction project.
Did you know?
For every ten seconds of time lapse video, you are watching around 240 individual shots!
Safe and practical to make
One of the main misconceptions of time lapse videos is that they are complicated to set up and supervise. In fact, with our equipment, we can easily film a construction site from almost any vantage point without putting staff at risk or getting in the way of important work.
A multi-use marketing tool
Time lapse video can be used for all of the classic media marketing uses- to share on your social media and drive engagement, to hold the attention of visitors on your website, to highlight your successful projects to new clients, to impress or update your investors, and to reassure current clients. What's more, we can incorporate statistics and a call to action into the final edit of your time lapse so that you can convert a passive viewer into an enthusiastic business enquiry.
Build trust AND generate buzz
Construction companies can be tricky to promote because it is essential that they build trust with their current and prospective clients, which can sometimes lead to very dry marketing campaigns. And this is really where time lapse video for the construction industry are a match made in heaven. Time lapse videography allows for transparency, revealing every step of your process, whilst also creating excitement and awe. With this one type of media content, you can bolster your good reputation and generate buzz for your company. There is a history of using fixed CCTV cameras on site's for security functionality which can then give a basic version of a timelapse, our dynamic systems give functional options for marketing and practical purposes.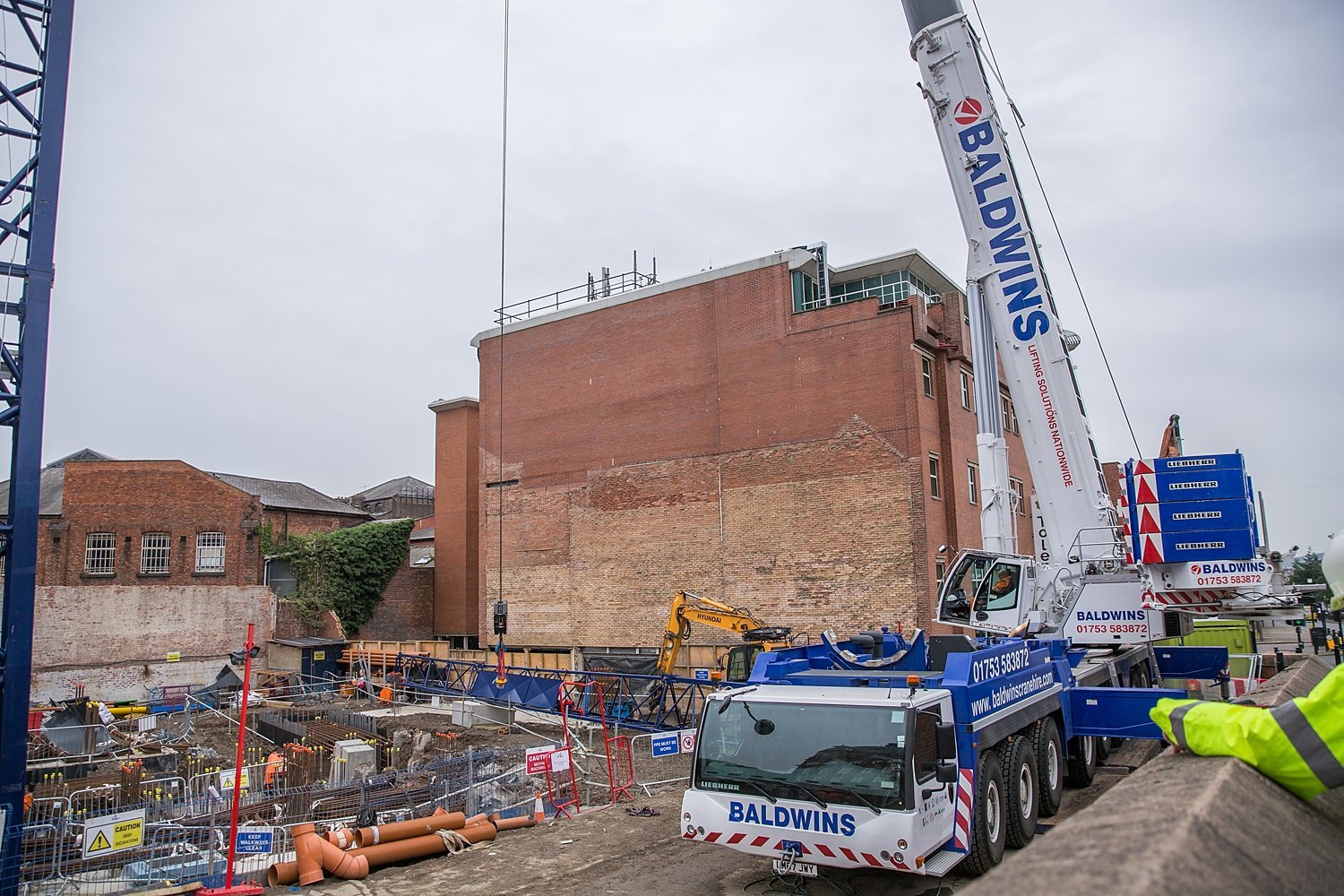 How to use time lapse videos to market your construction business
Just to really convince you that you should be using time lapse video to market and grow your construction business, here is a list of ways that time lapse video can benefit your business:
To add flair to your corporate branding

As eye-catching website video content

To bring your online case studies to life

As the grand finale in important pitch meetings

To demonstrate your hard work to your investors

To promote your services on social media

As a feature in the local or national news

To set your business apart from the competition using functional CCTV time lapses

To benchmark a new arrival of equipment

To show how productive a product line or business is day to day
Some of our favourite time lapse projects
We wanted to share some of our favourite recent time lapse videos for construction projects so you can see for yourself:
Johnson Tucker Newcastle time lapse- property management
Hadrian's Tower time lapse- construction project
Highways Agency Newcastle- traffic survey
Port of Blyth - Crane Delivery
ENEL construction time lapse - First power site of its kind in the UK
Summary
So would you consider using time lapse video to promote your construction business and showcase your current and upcoming building projects? It's a no brainer right? With one video you can rest easy that your site is being carefully monitored and that you are creating a great marketing tool for years to come. Here is what one of our clients has to say on the impact it has had on their business:

In the past few years, we have seen a massive increase of demand for more videos and time lapses than newsletters and brochures. Clients want to see the progress of their projects, rather than read about them. Since using time-lapses we have had some fantastic feedback from investors who have seen the videos as 'instant progress'. These videos have allowed the clients to view the progress quickly, share with colleagues easily and view with ease on their mobile phones.
Cheers,
David
If you have questions about time lapse videography for your construction site or property development project, we'd love to hear from you.